Online advertising
Target your ideal customer profile and get your brand in front of them on Google search and millions of other websites. We'll bring new customers to your door – you close the final sale.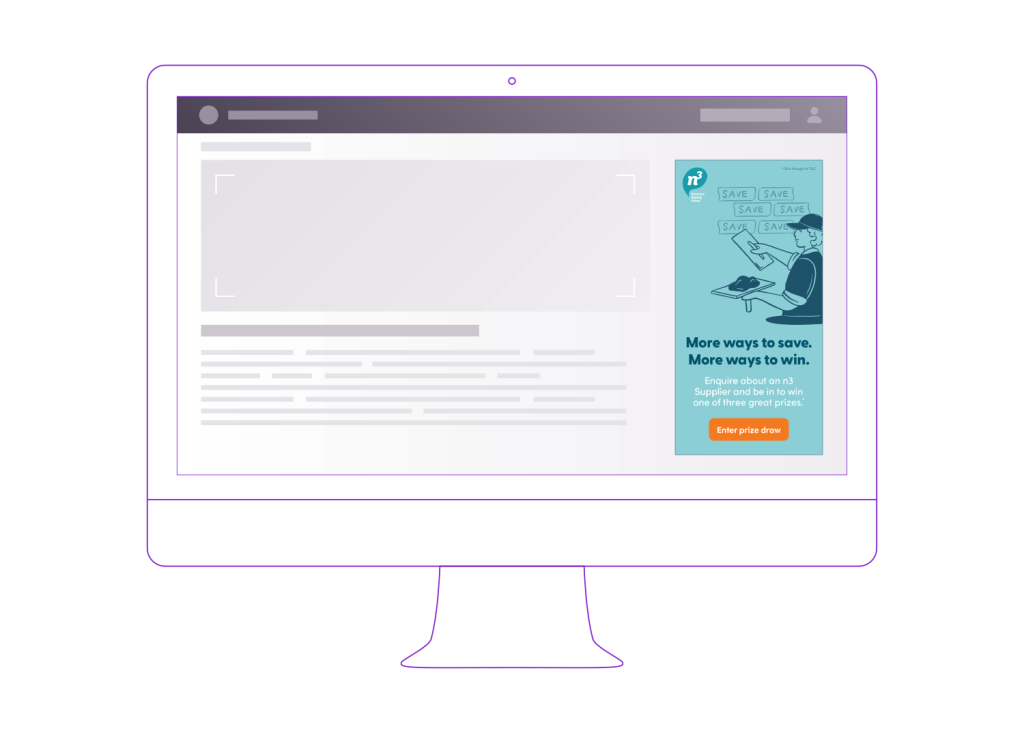 Summary: the quick version of this page
We create and manage ad campaigns for our clients, primarily on the Google Ads platform and Meta Business Suite (for Facebook and Instagram ads). We integrate with Google Analytics to measure campaign effectiveness and make improvements over time. We offer a full design service for display (banner) ads.
Google Ads: the gold standard
The Google Ads platform, formerly known as Google AdWords, serves as the centrepiece of all of our clients' online advertising efforts. In fact, for many of our clients, we recommend that their online ad spend starts and ends with Google Ads.
With Google Ads, we can create campaigns that reach your ideal customers not only on Google's search engine results pages, but also across millions of other websites and apps. And because Google Ads operates on a pay-per-click (PPC) model, you only pay when someone actually clicks one of your ads, making it a really cost effective way of driving people to your website or online store.
Google uses targeting algorithms that take into account millions of factors when deciding who will see your ad, from basic audience attributes such as location, demographics and interests, through to specific factors such as a person's online behaviour (the websites or apps they've used recently, as an example). This level of targeting means you're starting off on the best footing possible, by only showing your ads to online users who are likely to be interested in your brand and its products and services. In other words, you're not throwing money at TV ads and hoping your ideal customer happens to be watching at the right time (and channel) to see them.
Google search campaigns (text ads on search results)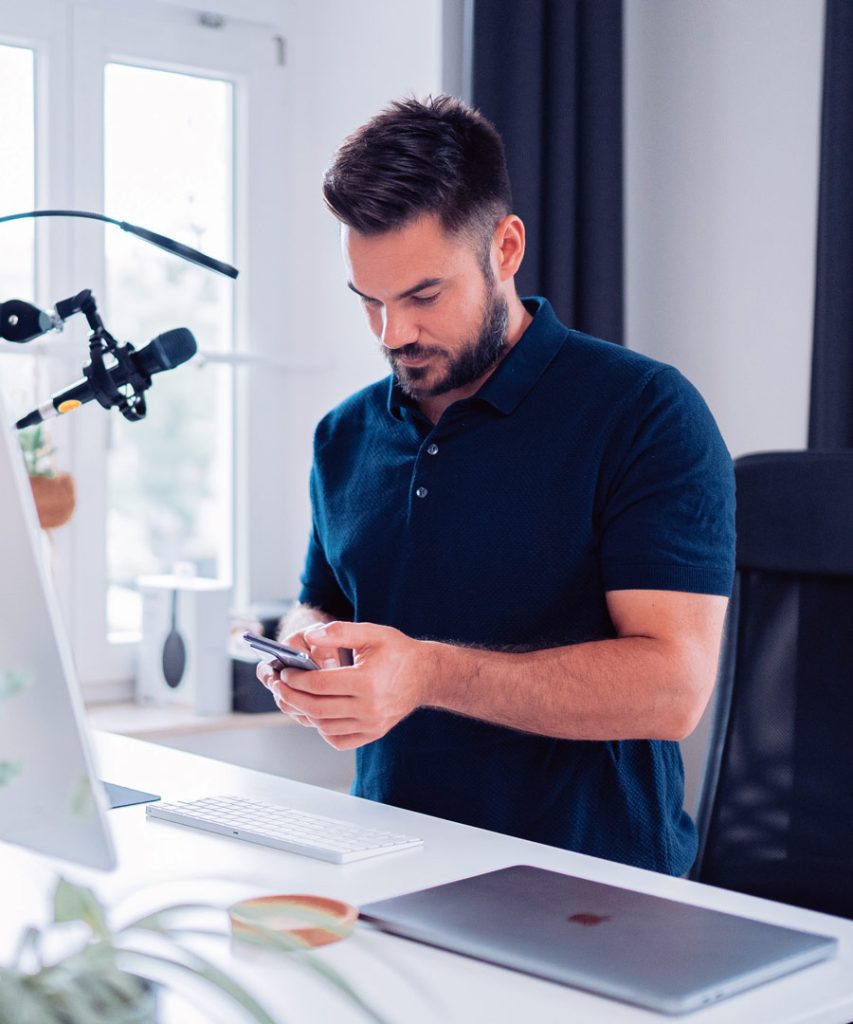 Search ad campaigns are the most common type of campaigns we create for clients. These are the ads you see at the top of the page when you search for something on Google. They're quick to set up and they drive great results, simply because they reach people who are actively searching for your brand or the products and services you offer.
Google display campaigns (ad banners on websites)
Display ad campaigns are a great option for brands who have an existing library of visual content, or the budget to have these created by experts (that's us!). In plain English, display ads are image banners that show up on millions of websites and apps, and even on Google's own online properties including YouTube.
These ads take advantage of the same targeting algorithms that Google uses for its search ads, meaning the people who see your display ads will likely be interested in what it is you're advertising.
Performance Max campaigns (AI-enhanced ad combos)
Performance Max is a relatively new Google Ads offering that combines all of the campaign types available (including the search ad campaigns, and display ad campaigns we mentioned above), without the time involved in setting up multiple campaigns separately.
These campaigns are even enhanced by AI to increase results, using a mix of your text ads and display ads to create ads that attract your ideal customers. Google's AI also optimises your budget in real time across your entire Performance Max campaign, automatically allocating the overall campaign budget to prioritise getting results.
Leave it with us!
At Mix Digital we can make expert recommendations on what type of Google Ads campaign would be your best option. We can take care of the entire Google Ads campaign setup process for you, including the initial creation of your Google Ads account in line with industry best practice. We can also link your Google Ads account to an existing Google Analytics account (or create one for you) to monitor the success of your ad campaigns and make adjustments over time. Lastly, it goes without saying that we can create display ad banners that are visually effective and on-brand!
Social ads: get noticed on Facebook and Instagram
Advertising your products and services on Facebook and Instagram is a great way to get your brand in front of your ideal customers. Because both of these social networks house a lot of data about the people who use them, it's straightforward to create ad campaigns that are tailored to specific demographics. This means we can narrow down the target audience to match your ideal customer profile, based on factors like their location, age, and behaviour within the social network itself (the pages they like and the content they interact with).
We can take this even further for you with Lookalike Audiences – this means showing your ads to Facebook and Instagram users who are similar to your existing customers. The huge benefit here is that you're not wasting money on showing your ads to people who have no interest in what it is you're selling.
Remarketing: a second chance to impress
Remarketing, also referred to as retargeting, is the process of showing ads to people who have already visited your website or online store but have not necessarily completed an action that you want them to. An example would be people who visited your online store but didn't purchase anything, or people who browsed your website but didn't submit an enquiry form.
When these users exit your website without converting (that is, without completing the action you want them to), they are added to your remarketing list on Google Ads and Facebook/Instagram. In the hours and days (up to weeks and months) that follow, we can target them with ads that entice them to return to your website and complete the desired action, such as making a purchase, submitting an enquiry form, or signing up for your email newsletter. These ads "follow" the user around the internet, appearing as they browse other websites, use apps, and engage on social media platforms.
How remarketing works: the campaign flow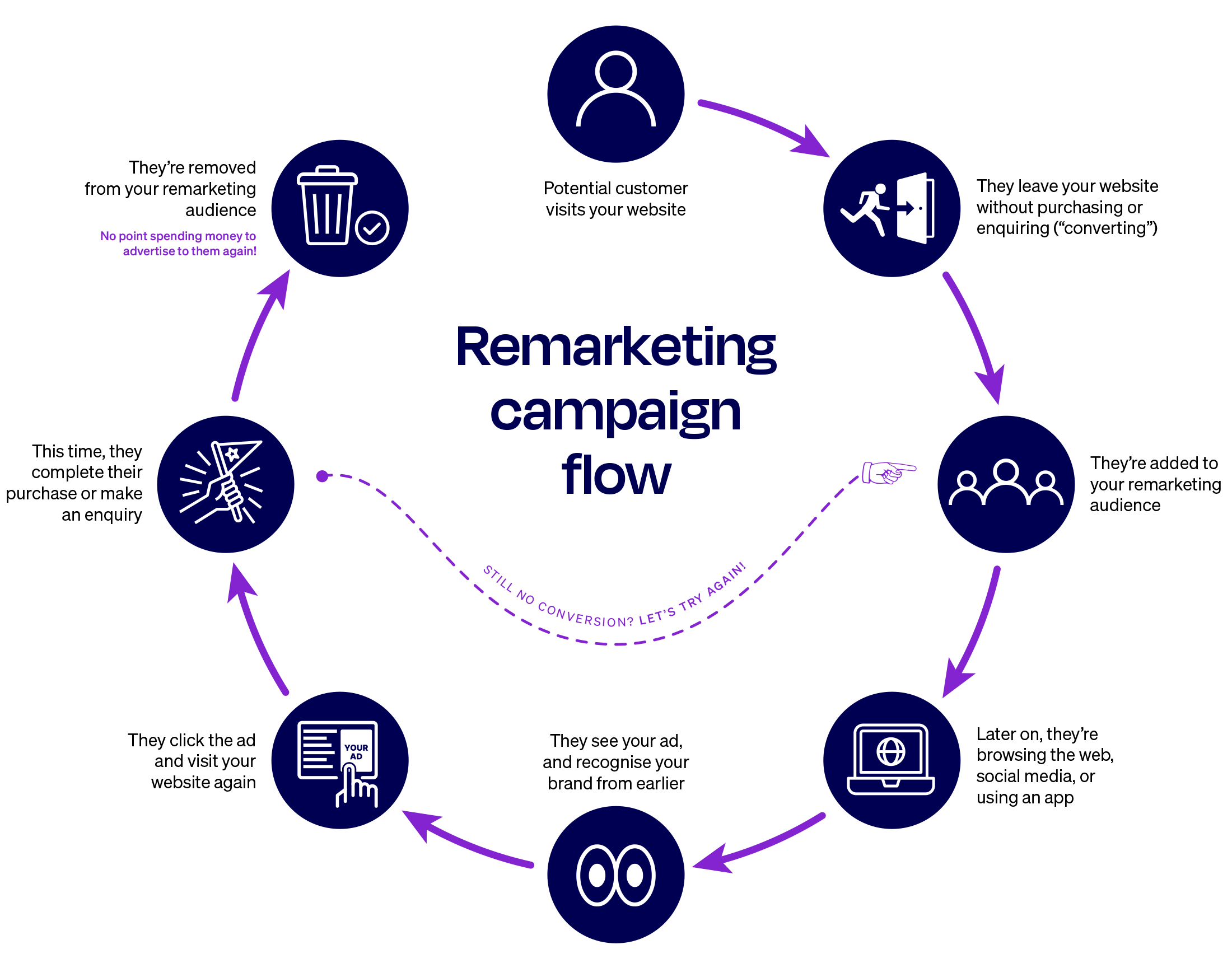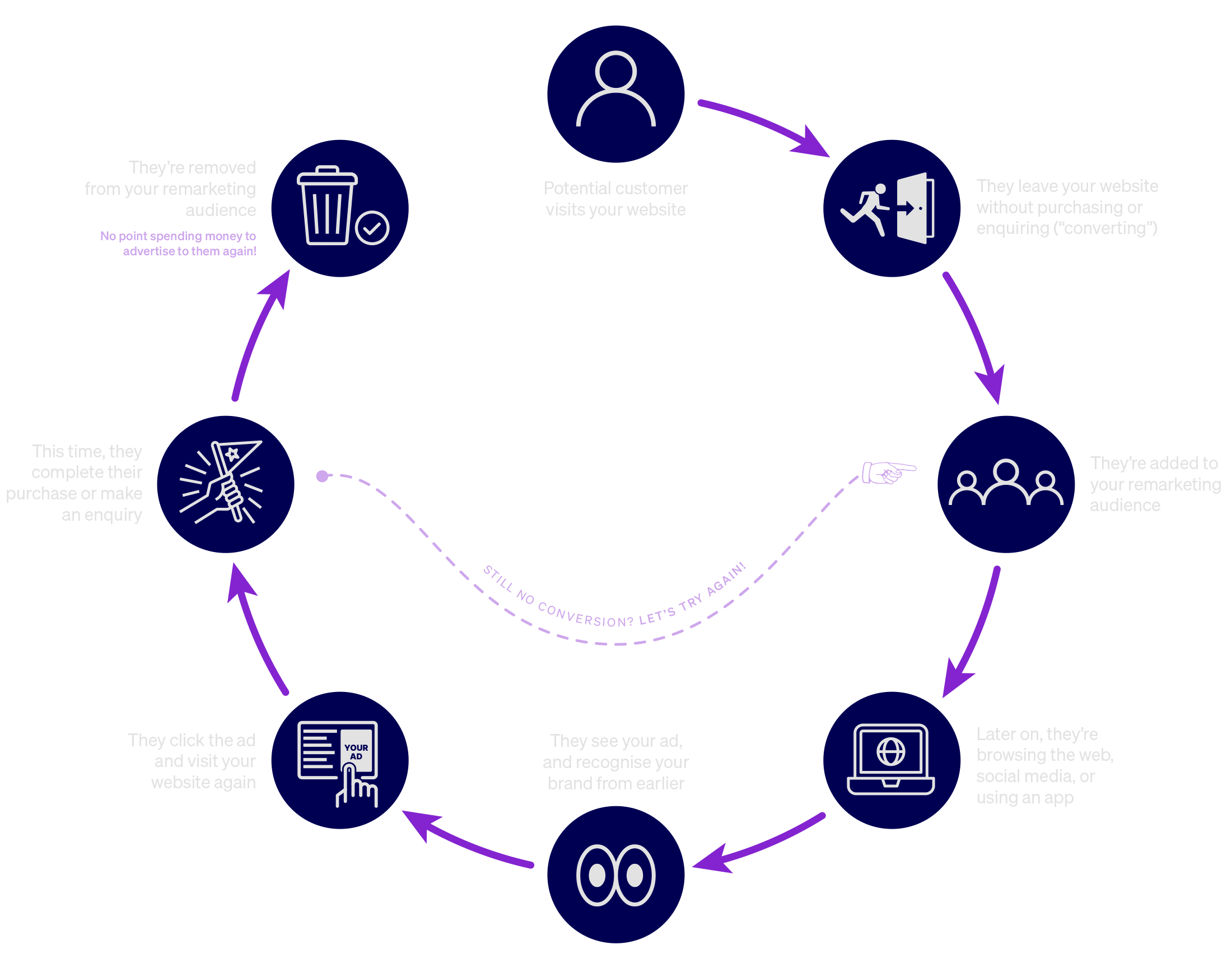 Because we're showing your ads to people who are already familiar with your brand, remarketing campaigns have a high chance of converting them into actual customers. Once they have converted (made a purchase, submitted an enquiry form, or completed another desired action) we remove them from the remarketing audience so we're not wasting money advertising to them again.
We work with the following platforms and technologies:
Google Ads
Google Analytics (for measuring campaign effectiveness)
Meta Business Suite (for Facebook and Instagram ads)
Our online advertising services include:
Full ad banner design services
Google Ads account setup
Google Ads campaign creation and management
Integration of Google Ads and Google Analytics
Facebook/Instagram ad campaign setup
Integration of Meta Pixel with your website or online store (to track Facebook/Instagram ad campaigns)
Copywriting for text ads where required
Grow further with these services too:
Price calculator: Get an instant price indication for your project